SUPERIOR STRENGTH & DURABILITY
Our buildings are Built Country Tough. Top quality materials and craftsmanship means no worries down the road. We all have enough to worry about.
FULL SERVICE & LOCAL PEOPLE
We specialize in providing a full service building experience, from site work to the final screw. Responsive and friendly, we are not your average contractor.
BEST VALUE
We take pride in giving you the best value for your money. A better product at a fair price through the efforts of experienced craftsmen who enjoy what they do.
What We Do…
Durabarn is a builder of Pole Barns, Homes, Shouses and Barndominiums in the Troy, MO area. We build both post frame buildings as well as traditional stick framed on foundations. We can handle site work, excavation, driveways, underground electric, well, septic, foundation, flatwork, the building shell and interior framing for you. All that's left is to finish the inside the way you want it.
Pole Barns & Post Frame Buildings
Durabarn builds pole barns and post frame buildings of any size and shape. We specialize in custom services that meet your needs.
Traditional Homes & Barn Homes
We're excellent at building custom homes. Whether traditional stick framed or barndominium style, we do it all.
Expert Home Shells
Our Clients enjoy the savings of organizing the interior finish themselves. This means you don't have to pay a general contractor 20% to finish the inside for you.
Featured Pole Barn Build
Built by Durabarn in Augusta, MO, this custom Pole Barn has a 50x80x18 main building with two 20×80 lean to's. One lean to is partially enclosed for a wood and blacksmith shop. Custom features include the Douglas Fir gable pediment with arched bottom chord, iron and wood sliding doors, custom weathervanes, stone wainscot, lighting and so much more.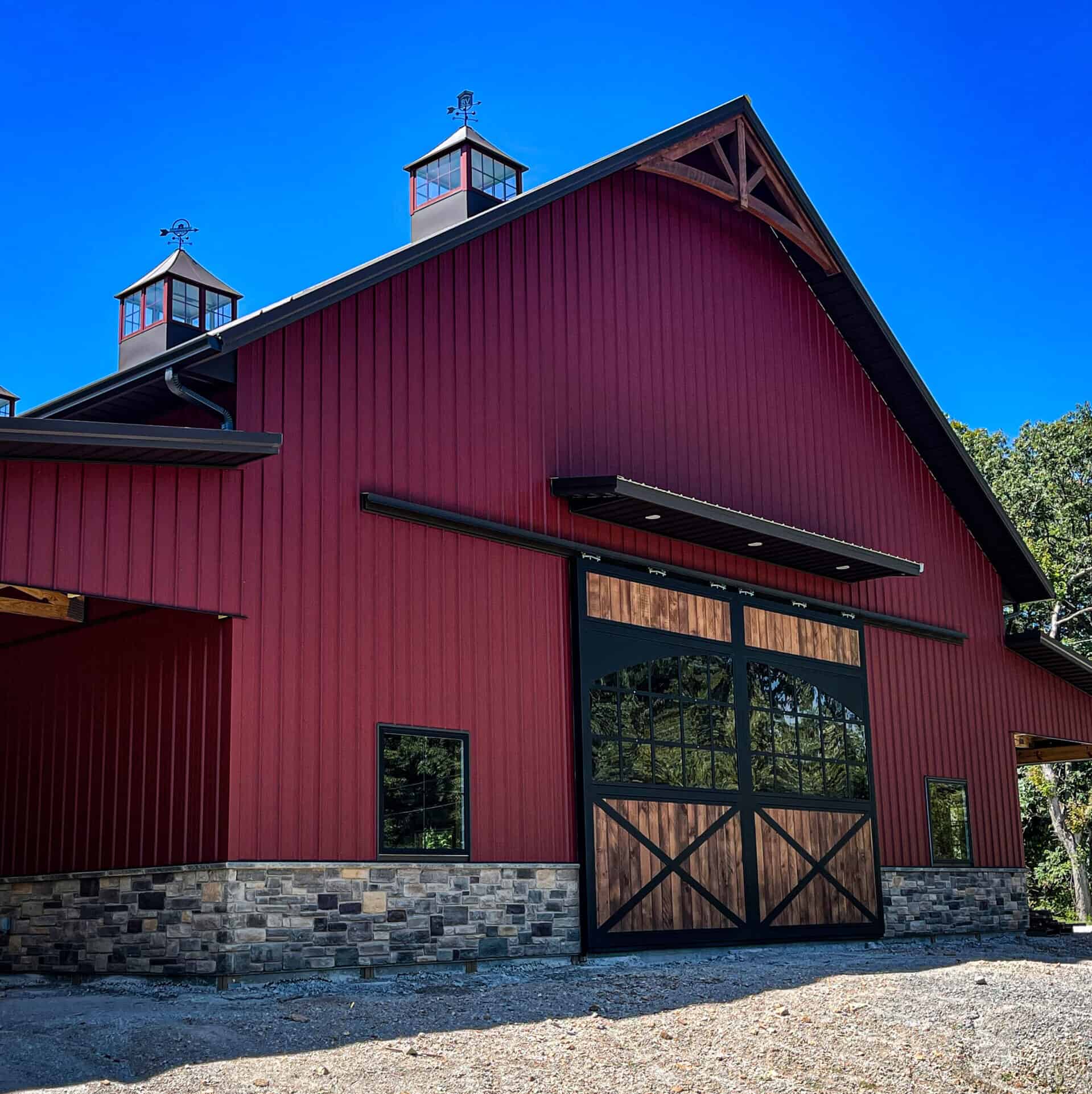 Recent Builds
Here's a few of our recent projects. Simple sheds to full custom homes, we build them all.
Warranties
Better buildings, better warranties.
BUILDING POSTS – 50 YEARS
Our standard building posts are warrantied for 50 years against insects and rot. In addition, posts won't warp and twist.
METAL PAINT – 40 YEARS
Our WeatherXL Paint is warrantied against cracking, flaking, peeling, chalking and color changes for up to 40 years.
VENTED RIDGE – 40 YEARS
Our vented ridge cap material is warrantied for 40 years. It won't absorb moisture or block ventilation.
Meet Our Team
Our team is the heartbeat of our company. Experienced Craftsmen and Good People.
Wayne Richardson
Operations Manager
Five Star Reviews
Don't take our word for it – here's what our clients say:
We couldn't be happier with our new building. We researched multiple companies (high-end to low-end, local and distant). Once we talked with Barry at Durabarn, we had no question as to who would build us the best building at the best price.

Barry was very easy to work with. He was quick at providing estimates for the various options (building size, extensions, porches, etc.) and his extensive knowledge was extremely helpful with the design aspects. Barry and his crew (Jake, Jess and Devin) are great! They are honest and were always kind, courteous and hard-working. They put up the building quickly without sacrificing quality and frankly made it a great experience!

We have had so many compliments on our new building.

If you area looking for an honest company that does excellent, high caliber work, we highly recommend Durabarn!
Lynn Duncan
Troy, MO
Read More Reviews
The DURABARN crew is FANTASTIC. I've used them on three projects and they have performed FLAWLESSLY on all three.

The most recent of these projects was fairly complicated compact barn. Barry and the crew took my vision from a sketch to a blueprint and then onto reality while other barn builders told me it couldn't be done.

I highly recommend DURABARN.
Chaz Bullock
Troy, MO
Read More Reviews
Barry Nuss and his crew at Durabarn did an AMAZING job on our 40'X60′ shed with corner porch/awning. He is very responsive, will design your custom project from scratch, and keep open communication with you throughout your build. Our barn came out looking exactly like the proposal, and we are thrilled with the finished product. The look and quality are better than I could have imagined, and Barry is even more of a perfectionist than I am – you can tell he truly cares that the job is done right – down to the smallest detail, and that your satisfaction is a top priority. I can't recommend Barry and Durabarn enough! Give them a call!
Adam Lawler
Warrenton, MO
Read More Reviews
Local People. Better Service.
We specialize in providing full service pole barn construction, from site work to the last screw. We understand you may have others who'll do some of the work. That's ok with us too. We can provide labor only or we can do the whole project. We'll work with you to get you the post frame building you need at a great price. Our building crews are friendly local residents, not out of staters. We know the area and the elements than can affect your building. Wind, snow and more.
Custom Design
Everything we do is 100% custom. There are no "stock" buildings or off the shelf buildings to choose from. We work with you to design the perfect pole barn, barndominium, shouse or shed. This way, you get the exact building you want without having to settle for a "kit". Here are just a handful of designs we've done.