Common Building Features
There are literally hundreds of options for your post frame building. Here, we give you the basics. Once we know the purpose and layout of your building, we can get into additional options.
Building Size & Height
We can typically build any size post frame building. Most questions from our Clients are about building height. When talking building height, we mean from the top of the bottom girt/splashboard to the bottom of the trusses. So, a 12 foot high building will have a true 12 foot inside clearance. On a 12 foot building, the exterior eave wall would be around 12 ft. 11 in. or so.

In deciding height of your building, it's important to know you'll want to go about 2 feet higher than the tallest overhead door clearance needed.
Roof Style & Pitch
Roof pitch, or the angle of the roof, can generally be chosen at your discretion with minimums determined by local conditions and codes. We'll help you determine the minimum pitch for your area. In the mean time, here's a few options.
Basic Roof Styles
Roof Pitch
Eave Overhangs
Eave overhangs are an extension of the roof that overhang the building. Overhangs help enhance the looks of your building while providing a soffit for ventilation.
Post Protector
Post Protector is a protective barrier system that eliminates wood contact with soil and concrete that causes wood decay. Vertical ventilation and weep holes at the bottom allow moisture to dissipate. Built in uplift protection helps keep the post right where we installed it.
Color Choices
Many colors in 2 different finishes are available for your building.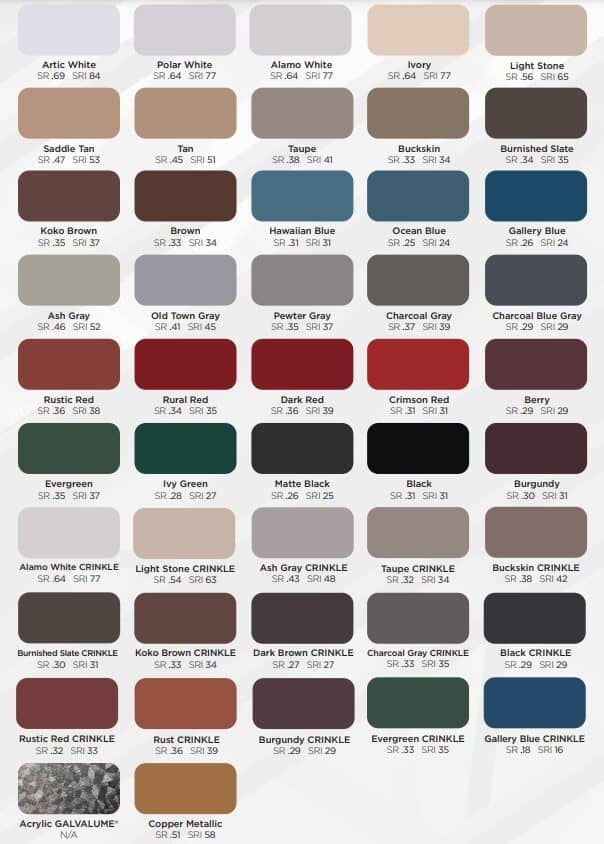 Each metal panel we install comes with a 40 Year Limited Lifetime Paint Warranty that includes protection against fading, cracking, rust and more.
Wainscot
Wainscot on a post frame building is simply a different color metal applied to the bottom 3 or 4 feet of the building. Decorative in appearance, it can provide a pleasing aesthetic look.
Doors & Windows
We're not limited on the style or types of doors and windows we can provide for your post frame building. We even install doors that our Client's have purchased.
Standard Series Insulated Doors
Ventilation
We offer many types of ventilation. Ridge venting and cupolas are the two most popular choices. Lighted ridge vents are also available to let sunlight into your building while keeping the weather out.
Up to 40 Year Warranty On Certain Ridge Vents
Cupolas
Ventilation is important to a healthy building. Cupolas are not only decorative, they help with ventilation in your building. Cupolas are available in three sizes: 24″ x 24″, 36″ x 36″ and 48″ x 48″.
Cupola
Weather Vanes
We have an extensive selection of weather vanes in many sizes and styles. All weather vanes are included with the purchase of a cupola. These look great with any of our Cupolas.